In one's life, one visits a lot of places, but one's own sensibilities and conditioning clouds the perception that one forms about the place in question. I feel, one can never truly experience a place unless it's through the eyes, ears, and palate of a local.
At Madurai, after getting in early that morning and after visiting the Meenakshi Amman Temple, we did exactly that.
We had got a reference from TripAdvisor.in about an initiative called Foodies Day Out, which takes visitors around the city of Madurai on a culinary journey. Being a foodie, that was hard for me to resist and I thanked my stars when Neeti agreed enthusiastically to join in.
We met Pandian at the eastern Gopuram of the Temple. Pandian, a technopreneur, who has a great passion for the local cuisine of Madurai, the street food kind of stuff that the grew up eating which a tourist would rarely get to taste.
Pandian walked through the markets alongside the Temple and that was when we tasted something very unique and refreshing. It came as a revelation to me that the kernel of the coconut palm stem is consumed. We came across a roadside cart, with ivory sprigs of coconut tree blossoms placed strategically to draw attention. On the cart, there lay fresh green logs, logs of coconut palm.
Pandian suggested that we try the thennang kuruthu. The vendor peeled away the trunk to reveal the ivory white kernel, which was then sliced to wafer thin bite sizes, handed over to us on a newspaper. The next step was to dig-in - the thennang kuruthu had a mild sweetness with a unique delicate flavour. We were told that is a preferred snack to much on, on the streets of Madurai - low on calories and high on water, the high mineral and roughage content made thennang kuruthu an ideal snack of sorts!
We next proceeded to a tiny little shop opposite the Mission Hospital. This shop managed by a fiesty middle-aged lady was a popular for a delicate South Indian preparation, the idiappam (string hoppers). I was not new to the idiappam - I recall having it long back in the early 1980s as a kid in Zambia at a Sri Lankan family's place, but this was Neeti's tryst with the idiappam. And voila, the lady handed us two plates of idiappams - one with a tangy red tomato-coconut gravy and the other with mildly sweetened coconut milk. The idiappams were just just out of the steamer and went very well alongwith the gravy and the sweetened coconut milk. Pandian did mention that idiappams were usually served as a breakfast meal in Madurai - yes, it is an ideal breakfast meal with minimal fat. In fact this outlet is frequented by patients of the hospital across the road - now that is indeed testimony that food in small joints like this is truly healthy simply because, as I explained in the previous post, the turnover is so high that it is virtually impossible for anything to go stale!
Our next point of call was the Vandiyoor Teppakulam, or the temple tank. Despite having passed by the city a number of times, this was the first time I saw this 1000 feet by 950 feet waterbody. Vandiyoor Teppakulam, which was constructed in 1645, and is fed by the the River Vaigai through a series of underground channels. In the middle of the tank is an island called Mayya Mandapam, which has a temple and quite a few lush green trees. Obviously this place is popular recreational spot for the locals, who come here to enjoy the breezy sunset, much like Bandstand or the Marine Drive in Mumbai.
In fact I was surprised to know that in Tamil Nadu, Madurai is also called Thoonga Nagaram i.e. a city that never sleeps. So far, this description fitted the megapolis of Mumbai well. But Madurai? Well it did seem to be true after all, seeing all the people having a good time around the temple tank munching on their favourite snack and savoring their gossips.
And where there are people, there has to be food!
Pandian took us to a handcart manned by a Tamil couple making idiappams and ragi puttu - steamed ragi (millet) with coconut and sugar. As we stood there waiting for our puttu to get ready, a young boy stood there looking wide-eyed expectantly for his snack to get ready. For a moment that reminded me of my days as a little boy, when I too was like that standing in the kitchen waiting for Mom to retrieve the goodies from the oven.
Millet was stuffed into a cylindrical mould and steamed to make the puttu. After about 5 minutes, the vendor manning the cart took out the mould, extracted the millet, which had now taken a cylindrical shape. He then crushed the millet cake into coarse crumbs and sprinkled sugar and coconut over it. The puttu tasted coarse and rustic, but did exude a certain earthy goodness.
After taking a few bites, Pandian returned with something that looked like a pakora (fritter) - made from the kind of chillies used to make the Hyderabadi mirchi ka salan. After tasting the subtle idiappams with delicately sweet coconut milk and the puttu, the sweetness of sugar itself was a bit too much and so the chilli pakora bought instant relief with its spiciness.
The next stop on the foodies tour was my personal favourite. Pandian took us to an unassuming roadside eatery opposite PAMC Hospital. We were told that this outlet started as a handcart. The food became so popular that the joint expanded significantly. Pandian, it appears, loved the food so much that this guy provided some catering for his wedding reception!
This place was popular for a personal favourite, something that I had eaten a couple of years back while travelling from Thirunelveli back to Madurai, late at night. Ever since that day, I used to salivate over the thought of the Kothu Parotta. Today was a golden opportunity to devour this sinful delight.
The beginnings of this sinful delight usually begins with making a flaky parotta with white flour dough. But at this place, the dough was rolled out into a thin sheet, in a way one makes a roomali roti, and in what is typical to Madurai, instead of being cooked on a greased griddle, the thinned out dough was rolled into bun-kind of a shape with generous drops - fat drops of oil sprinkled on it and then the whole thing was cooked on the griddle.
After the flaky parotta got ready, it was time to make the kothu parotta - on to griddle go the big fat drops of oil, followed by onions. As the onions go translucent, in go green chillies, tomatoes and curry leaves. And then after that beaten eggs go in. Instead of letting the beaten eggs settle, the concoction was mixed up without letting the eggs get cooked. In the runny mixture, the cook put in crushed parotta. Then the cook skillfully pulled out his tools - two steel sheets were used to beat the parotta-egg-vegetable mixture into tiny homogenised pieces with noisy clangs. I am told the clangs build up the excitement of having the kothu parotta! That is not all - generous spoons of a coconut-mutton gravy called chalna were mixed into the concoction!
We then had this amazing kothu parotta, steaming hot, with a chicken gravy! Neeti, who was having this heavenly combo for the first time, gasped at the amounts of oil that went into it, but then sinful is also enjoyable sometimes! I guess why we call this kind of food heavenly is because the cholesterol certainly puts one closer to heaven(?)!
Our next pit stop was another joint which was a bit more organised than the previous joints we had visited - this was in a building! As we moved in, we were ushered into rooms full of families enjoying a relaxed meal. Pandian ordered curry dosa and half-boiled dosa for us. Curry dosa was an amazingly spicy mutton based preparation made on dosa batter, while the half-boiled dosa was incredibly simple - an egg broken over a plain dosa sprinkled with highly aromatic freshly ground pepper. We had both these dosas with a spicy coconut gravy, with an egg beaten in.
By now we really had a quite a lot, with little spare capacity! At our behest, Pandian skipped vegetarian cuisine, the kind we had at Murugan's earlier in the day and we headed straight to the areas around the Meenakshi Amman Temple for a local speciality - a juice made of cotton seeds, flour of raw rice, coconut and jaggery, called Paruthi Pal! That wasn't something I had heard of before. We were told that Paruthi Pal was a health drink! But sadly, the vendor wasn't on work that day. Perhaps, that was Madurai's way of telling Neeti and me, "Please visit us again to try out Paruthi Pal!"
But we moved on try out something equally interesting. Pandian found something interesting with a streetside vendor on a busy street near the Temple. The vendor had some bright yellow fruit. Pandian called us with a lot of enthusiasm. As we went closer, I was surprised to see the vendor was chopping jackfruit, a version of the South East Asian durian, I had always known jackfruit as Kathal, something that my grandmother would cut with oiled hands (jackfruit is too sticky and itchy) using her traditional cutting appliance called dratti! Then the Kathal would be fried and cooked into a spicy gravy.
On a trip to Coorg last year, we figured out that jackfruit trees grows abundantly in coffee plantations alongwith spice shrubs. When jackfruit ripen on trees, they give out an aroma that attracts elephants. And then when the fruit ferments, it ends up intoxicating the elephants who then run riot through the plantations, devastating coffee and spice produce.
But Madurai gave us a totally different perspective on jackfruit. The vendor skillfully cut up the jackfruit, peeled away at the fibre to reveal a bright yellow fleshy tissue which was handed over to us on a piece of paper. With some trepidation we tried the fruit - it was aromatic (much like a sweet perfume) and it tasted like nothing I had before, it was as sweet as nectar. This was a true revelation!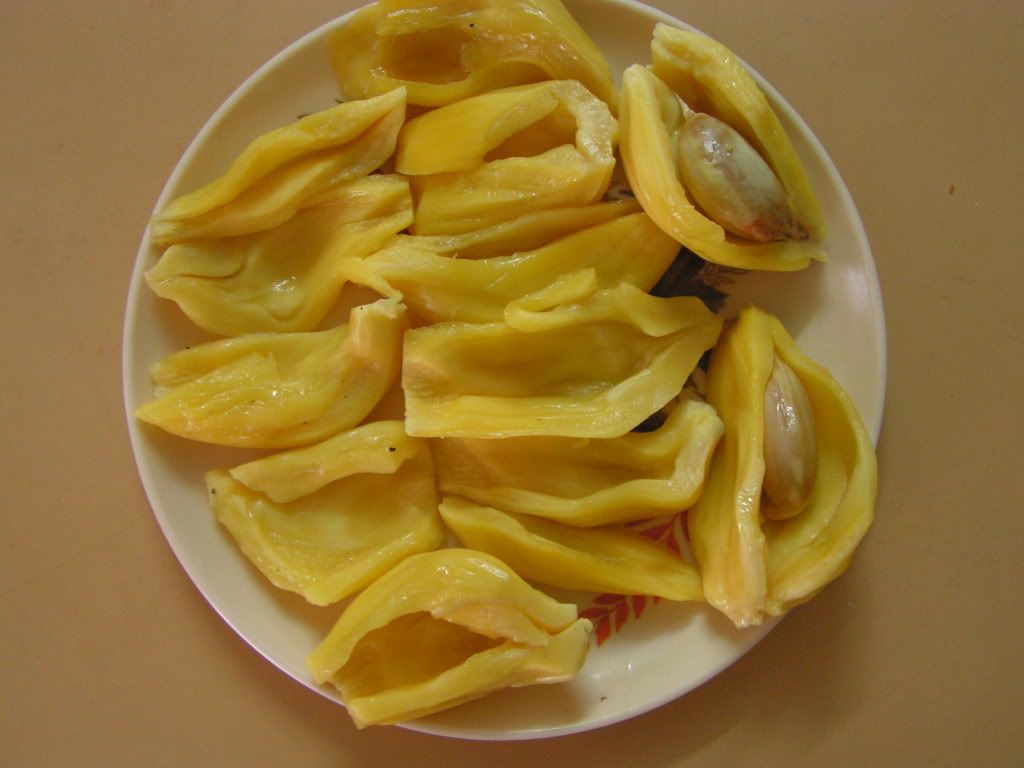 We walked down the busy streets of Madurai. Families were out shopping enthusiastically - clothes, toys, vegetables, spices and what not! The spicy aromas wafting out of spice wholesale shops, reminded me that we were not too far from the spice country! We stopped at a shop where Pandian showed us the sun-dried sundakka that had gone into the Vathal Kozhambu that I had enjoyed at Coimbatore a few days back!
It was then time to devour some dessert. Pandian got us some adirasam - a doughnut shaped delicacy made with palm sugar and poli, something like the Maharashtrian puranpoli but made with palm sugar. And then Pandian insisted we cool off with jigger thanda, the refreshingly cold dessert we had earlier in the day at Murugan's!
After we could take no more, we pleaded with Pandian to end the foodies trip, though he much more to offer! Our wish was granted, with Pandian driving us back to the hotel.
The foodies day out with Pandian was a revelation for us both. Neeti and I never knew Madurai had so much, so much to offer. Every city does, only if we choose to experience each place through the eyes of the local.
I wish Pandian all the very best for his noble initiative, Foodies Day Out. For me, this unique tour of Madurai would forever be etched in my memory!
http://www.rajeevmahajan.com/2012/03/ma ... mical.html